Axel Tayson
Dedication. Determination. Endurance. Clark Roofing would like to give a shout-out to one of the most dedicated employees we have ever known. Axel Tayson came to us as a Service Department technician to diagnose roof issues, repair them and manage our state-wide service department. In a very short time, we noticed that he was a self-starting achiever. He did not complain about long hours, hard miles from point to point, working severe storms to assist clients with emergency repairs, and at the end of the day, he would simply ask, "What's next?" Then, he was off to the next repair.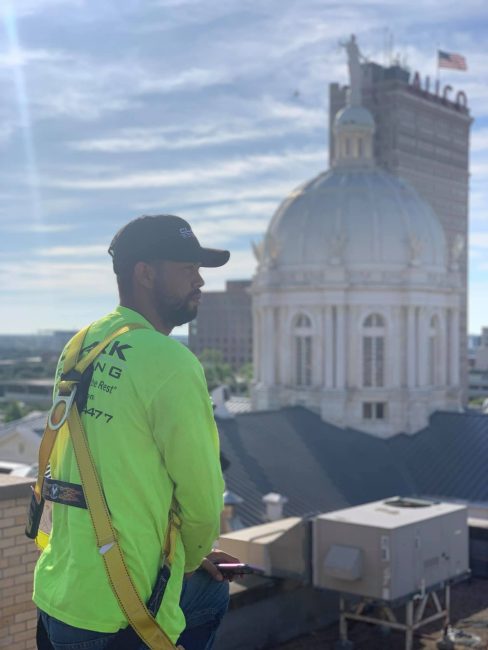 In less than a short year later, we knew he was an expert, someone capable of anything we could throw at him. This man never gives up or gives in. So, we promoted him to a commercial estimator. He carries everything he learned in the field, with attention to detail and following all roofing regulations, and never cuts a corner. And his way of thinking is, "Someone is paying for this, so not only must it be right, it must be perfect!"
In short, we want to brag on our guy! He deserves it! Recently, Axel, with other Clark team members, drove to the top of the Texas panhandle to assist customers with hail damage, drove more than 14 hours, worked all weekend, and worked all week.
Then, a few days later, a facility at Fort Hood needed a full roof replacement, and we had 5 days to get it done. Axel Tayson and his team worked Thursday – Sunday and completed it in 4 days, including one night working till 10:00 without anyone, including our owner, asking him to do this; it was his dedication, determination, and endurance. And the project is now completed and beautiful! Great job Axel, Ruben, Aaron… you are all very much appreciated!