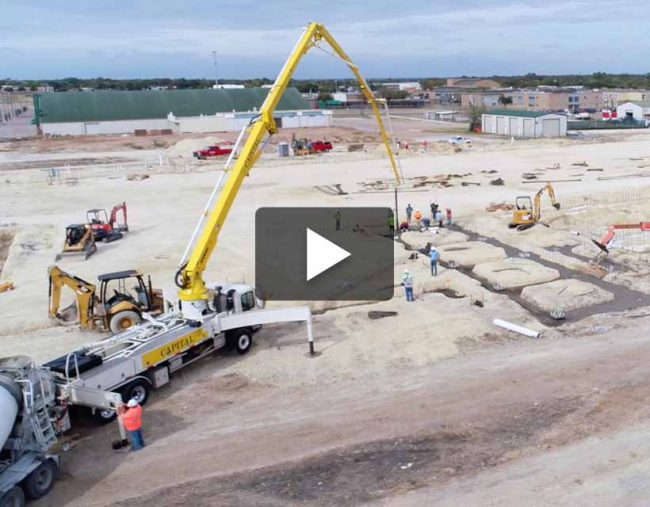 In a 2017 special election, McLennan County voters approved an increase in hotel-motel and car rental taxes to pay for a multi-phased overhaul around the Extraco Events Center in Waco, Texas. The 60-acre site is bounded by Lake Air Drive, Bosque Boulevard, New Road and Cobbs Drive. McLennan County hired two companies to oversee the project — Waco-based John W. Erwin General Contractor, Inc., the construction manager at-risk, and Kansas City-based Populous, an architectural design firm that developed a master plan for the fairgrounds in 2010.
HOT Fairgrounds, Extraco Events Center Expansion Begins
The first phase of the Extraco Events Center expansion is a new 84,000 square-foot Expo Hall.
Construction began in May 2019 with the demolition of the Creative Arts building, ticket office and demolition, and re-routing of existing site plumbing, mechanical and electrical systems.
Waco-based Barnett Contracting performed the site excavation, building pad construction, and new utilities work.  Some 50 thousand tons of gravel were brought in for the construction of the new Expo Center building pad. Grade beams outline the foundation with most trenches measuring 30 inches wide x 30 inches deep. Waco-based J-P Lowry has installed 125 drilled pier foundations and will place over 15-hundred cubic yards of concrete in the concrete foundations for the building.  Structural steel erection is expected to begin the first week of December 2019 followed by roof system installation and placement of the concrete floor slabs.
Clark Roofing's main scope of work on phase one of the Extraco Events Center expansion includes installing an 80 MIL Mule-Hide TPO Fully adhered roof system with a base of R-30 rigid poly iso insulation and a 1/4″ tapered insulation system. This roof will provide a very severe hail rating and a 30-year manufacturer No Dollar Limit roof system warranty. ABC Supply Waco will supply roofing materials for this project.
The roof area for all sections total approximately 87,500 square feet (TPO & metal roofing areas).
Clark handled the installation a complete exterior metal wall panel system from IMETCO. The covered exterior wall panels will be approximately 31,369.50 square feet and a half-mile of commercial coping along with many other accessories. Equipment Depot of Waco will be providing some of the heavy equipment for our work. Read more.