Historic Gatesville Building Single Ply TPO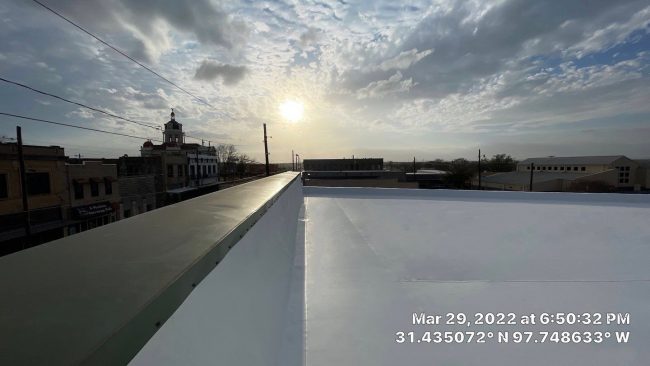 Graves Florist is a historic building on the main square of Gatesville Texas. The building owners contacted Clark Roofing regarding major leaks resulting from a massive hail storm, which severely damaged and destroyed the existing Dura-Last PVC roof system. The roof is approximately 4,500 square feet.
The original roof was around 10 years old and consisted of a 40 MIL PVC membrane. The roof was destroyed beyond repair as well as the underlying insulation substrate.
We removed the existing roof system and added additional insulation to provide a more energy-efficient roof system. We installed a longer-lasting 60 MIL TPO roof system, which withstands hail better than the original product. The entire roof system was replaced in one day.
The original roof was not properly installed and had a large amount of ponding water, the through-wall scuppers were installed incorrectly and greatly restricted the flow of water runoff.
We corrected this by removing all existing scupper materials and flashing. We installed TPO-clad scuppers, which maintain their shape for long durations. We also installed a tapered insulation system to prevent any water ponding and provide a positive drainage system.
Not only did we complete this historic Gatesville building single ply TPO project on time, but also on budget.